Overview
Updated June 2nd.
We are excited about Summer 2021!
Please note: It is wonderful that the CDC is continuing to update the guidelines for kids at camp. However, please remember that our guidelines come from the California Department of Public Health, not the CDC.  Our goal is to keep everyone safe. It's true that doing this in these circumstances will restrict camper freedom a little bit.  But we firmly believe this is a small price to pay to be able to be at camp, and we are confident we will offer a fun and engaging camp experience whatever limits are in place.
Activities and Electives – Session 1-6
Activity Descriptions
Campers will participate in 'Core' camp activities as a cabin group. In a two-week session, campers will also have the opportunity to sign up for 2 Electives. Each chosen elective will be offered in a 2-hour block, twice each session. Electives will give campers the chance to interact with kids within their 'Flock' and try new activities they want to specialize in.
Activities available to campers of all ages:
Animal Care
Here at Kennolyn, we have many farm animals, including chickens, goats, donkeys, potbelly pigs, horses, and more! Campers learn how to handle the animals and gain an understanding of responsible pet care.
Archery and Riflery
Safety and knowledge are of the utmost importance in these activities.  Our program starts with safety rules and moves through various stages of marksmanship.  In archery and riflery, Kennolyn achievement patches can be earned. Campers of all ages learn to fine-tune their motor skills and increase their powers of concentration in these activities.
Arts and Crafts
A variety of projects are offered to each color group including, painting, drawing, papercraft, sculpture, construction, and much more! Projects encourage exploration of a variety of art mediums and individual creativity.
Ball Sports
Campers enjoy shooting hoops in basketball, making a slap shot in hockey, or playing tennis, badminton, or pickleball.  Shuffleboard is also a favorite in the area. In addition to traditional games, loads of fun is had making up our own creative camp games.
Axe Throwing
Learn the surprisingly subtle art of axe target throwing. Under careful supervision, campers will learn to throw hatchets at special targets.  After getting the throwing style just right, campers will learn different techniques to improve accuracy and hit that center target.
Field Sports
Our turf field offers volleyball, soccer, Happy Shiny Funball, Frisbee, kickball, whiffle ball, Gaga Ball, 9 Square in the air, and more.
Monkey Palace
Probably just about the most awesome rope, net, bridge, and platform play area ever built in the redwoods.  Campers can climb, relax, and use their unlimited imaginations to make the different areas into whatever they can dream up.  Maybe it's a pirate ship today and a spaceship tomorrow. Who knows? To get a better idea of what this looks like check out our virtual tour.
Outdoor Adventure
Our redwood forest provides a wonderful environment for the camper to learn more about nature.  Outdoor Adventure takes place in various areas of camp and includes activities like gardening, outdoor cooking, hiking, animal tracking, fossil collection, and more! Learning to appreciate and care for the natural world is such an important part of camp!
Outdoor Cooking
In Outdoor Cooking, campers receive important lessons in outdoor cooking safety, learn to gather wood, build a campfire, and prepare and cook delicious meals in the great outdoors.
Swimming
Swimming is a Camp favorite!  Color groups will have the whole pool to themselves to float, see who can make the biggest splash, or play fun water games.  Certified lifeguards are on duty to ensure campers are safe and will practice social distancing unless an emergency arises. Counselors will be in the pool and available for help if needed. Campers start each session with a safety swim so the lifeguards can assess their skill level and see where they can swim in the pool safely. Campers who are assessed as non-swimmers will wear a wrist band to indicate to our lifeguards that they may need additional assistance. Campers can opt-out of the safety swim and will automatically receive a wristband.
Vaulting
Gymnastics on horseback.  A trained horse on a lunge line moves in a circle.  Campers learn to approach the moving horse, mount, perform some basic positions, and dismount.
Electives (2-week sessions only!)
Electives are our way of offering limited choice in a stable camp environment. Campers will choose one elective before camp and the other after they arrive. Each elective will happen 2 times per session in blocks of 2 hours each.
Horseback Riding
Campers will participate in a riding and vaulting lesson as part of their elective time. Campers will also learn the basics of horse care and how to behave around our beautiful animals. This program is not for advanced riders.
Ropes Course
This activity begins on our low ropes course, where campers learn new games, challenges, and low ropes elements to help develop the skills, confidence, and group support needed for the high ropes course. Once on the high ropes course, campers head for the treetops to try challenges like the High Y, Flying Squirrel, Team Beam, Balance Log, Pamper Pole, Incomplete Bridge, Islands in the Sky, and a camper favorite: the Zip Line.
Ceramic Arts
This elective combines hand-built and wheel pottery techniques so campers can create beautiful works of art. Projects are fun, creative and provide campers with a great sense of achievement! Participants will learn to work with clay using real potter's tools and techniques.
Sports including Fencing
Campers in the sports elective will participate in a number of sports activities primarily focusing on the ancient sport of Fencing. When time allows campers will play other sports including rugby, soccer, Frisbee, and basketball!
Performing Arts (Drama, Dance, Singing)
Campers will find their inner thespian in an accepting environment. They will work on their improv skills and get a chance to perform a play in front of the whole camp! Our experienced drama and dance staff will help campers find their voice!
Trapeze
We have been able to work with our partners at Trapeze Arts to reopen trapeze as a camp activity! In the past (and in the future) this has been an activity for which you pay an extra fee. For our 75th birthday, trapeze is included for all campers who choose this elective.
Equestrian Specialty (additional $750 2 week program fee)
Equestrian specialty campers are all assigned to the same cabin as a stable group so they can ride starting on our first activity day! This program is limited to grades 6-8th.
In all, the campers will spend 6 full days during a two-week session at the barn in riding lessons, vaulting lessons, and stable management classes.  Additional barn time will be available, but 6 full days is the core program.
This is not a beginner program.  The program is for campers who can already post the trot, have their own boots and helmet, and take regular lessons at home.  After you sign up for this program, we may call you to discuss your child's riding level.  Our goal is not to try and keep the program exclusive.  We love that kids want to ride.  But, if we have someone who cannot post a trot and handle their own horse comfortably, they will be miserable and we don't have the option to switch them out of the group due to the realities of the stable groups we will be operating with this summer.
For our campers that love riding, this program is outstanding.  They love the horses, they enjoy time at the barn, and they bond with our equestrian staff and their counselors because they have their shared love of horses.  While we are a bit sad that we have to restrict our overall camper numbers this year, the kids in the equestrian specialty will get the benefit.  They will have our beautiful equestrian center to themselves for much of the time.
Cabin life and mealtimes
Cabin Life
As we adapt to camp in stable groups, cabin life in 2021 is more important than ever before.
Campers live in cabins with up to 8 other campers.  Campers will arrange their sleeping space in a toe to head fashion to allow for distancing. Counselors do not live in the cabin but are able to supervise all inside cabin activities except sleeping. This is to ensure that campers and staff are not breathing the same air, indoors for long periods of time. At night, the counselors will supervise the bedtime routine including reading a nighttime story and staying until the campers are settled for the night.  All cabins have windows that open and will be open for added ventilation.  Air will be circulated by use of fans, air purifiers, and filters where needed.  Electric child monitors will be used in each cabin to ensure night-time safety. We know that this presents a number of challenges. Staff will be trained specifically in how to monitor cabin dynamics. Additionally, cabins will be encouraged to spend as much downtime as possible outside and not in their cabins. Counselors WILL be in the cabins to wake up campers, supervise any in-cabin time, read a bedtime story, make sure all campers are settled and quiet.  We tried this model in 2020 and it worked very well.
Cabins and Flocks
Based on guidance from California Health on child cohorts each cabin group will consist of 2 counselors and up to 14 campers. These groups are assigned according to their grade, gender, and age.  Groups may contain 2-3 different grade levels, depending on enrollment.   Each group will have 2 adult counselors that will remain with them for the entire session.  Supervision of this stable group is supplemented by administration, activity specialists, and a registered nurse or EMT to provide medical assistance when needed. In a two-week session, cabins will be assigned a larger 'Flock' later in the session after a second COVID test has been administered. This is a group of up to 50. Campers may be familiar with our Hawks and Eagles divisions, this is a similar idea. When encountering adults outside their cabin, social distancing standards will be practiced.

Each cabin will have their own bathroom area and outpost site for recreation time. Counselors will carry hand sanitizer to be used if a hand washing station isn't convenient.
Mealtimes
Meals are an important part of our camp culture. Each cabin eats as a group at their own table. Each meal begins with a song. Meals are a great time for the cabin group to check in with each other, reflect on the day and set intentions for what comes next. In 2020 we practiced a number of mealtime protocols that have been further adapted for this summer.­­­­
Campers will sit with their cabin group in our outdoor eating area at designated tables. Indoor dining in the Lodge may also become available depending on County foodservice guidelines.
Cabins will mask up and wait at their tables to be excused for the food line.
All meals will be served from a buffet serving line. Kitchen staff and other assigned staff members, all wearing masks and gloves, will serve campers and staff the entree, sides, salad bar, and dessert options.
Outpost
Outpost is a special program at camp that dates back to our very first summer. Campers spend 1 night each week in the woods sleeping under the stars, cooking food over an open fire, star gazing and of course, s'mores! Our private forest is large enough that each cabin can have its own camping site but still be only a few minutes from camp. For more info check out this video.
Drop off and pick up – Session 1-6
Opening Day. 
Before camp, you will be given an arrival time between Noon and 2:15 pm.  This will be sent via email 2 weeks prior to your drop off day. Upon arrival, you will be asked to remain in your car and a Covid rapid antigen test will be administered on all unvaccinated campers. The test will take about 30 minutes to process. AS SOON as your results are available, campers will be able to enter the camp and join the fun. Vaccinated campers can arrive during their assigned time OR can arrive at 3pm to avoid some of the inevitable back ups caused by testing.
Closing Day.  Pick up time is 10am for all overnight sessions. As camp comes to a close, all campers and staff will gather in their cabin groups or flocks and say farewell. As you arrive in the parking lot, a greeter will welcome you and call for your camper over the radio.  As you wait to see your camper, luggage will be loaded into your car.  Your camper will arrive and you can be on your way in a few minutes. We have 150 campers all leaving on the same day so there will be a line. There is only so much we can do to speed up this process. Just know that in a few minutes, you will see your camper for the 1st time in a week or two.
In 2021, nobody except registered campers will be allowed beyond the parking lot. Administrative staff, some counselors, and nurses will be in the parking lot to assist you, welcome your campers, and answer any questions.
2021 Financial Policies
There are very few minor exceptions to our policy of no refunds or rollovers after May 1st.
If a camper or member of their household tests positive for COVID in the two weeks leading up to their session, that camper should not attend camp, and a 50% credit towards a future Summer will be issued.
If a camper tests positive for COVID-19 during one of our onsite tests, they will be quarantined immediately, and their parents will be notified to collect their camper.  A 50% credit of the lost days at camp will be issued.
If a camper exhibits COVID-like symptoms in the days leading up to the session start, you and/or your doctor may decide it is unwise to attend camp. In this case, a 50% credit to a future summer will be issued.  Our policy does not preclude attendance at camp in these circumstances because of the testing protocols in place.
If a camper exhibits COVID symptoms at camp, that camper will be quarantined, tested, and likely returned to parental care subject to an evaluation by our medical team.  In the event a camper does go home in this scenario, a 50% credit of the lost days at camp will be issued.
If another child or a staff member in your camper's cabin group (or flock, if we have already broken into the larger pods) tests positive for COVID, the positive person will be quarantined from the group and returned to parental care (or helped with transport home in the case of a staff member) as soon as possible. You will be notified if such a circumstance occurs.  The group will be restricted to activities with their own group and monitored here at Kennolyn (this is consistent with current CDC/Health Department recommendations, which are subject to change.)  You would not have to collect your camper at this time. However, if you should choose to collect your camper in this circumstance, a 50% credit of the lost days at camp will be issued. Our county public health department would be contacted in these circumstances and might impose additional restrictions.
If there is a more significant COVID outbreak across numerous groups or if we are forced to close or restrict activities by any government entity, our Force Majeure clause will come into effect.
Covid Protocols
We continue to work with state and county health officials.  The following protocols that we developed based on our successful camps last summer, may be changed at any point if there is updated guidance.
Covid-19 Considerations
There are a number of ways we can work together to make camp a successful experience for your family this summer. Our plan revolves around the following factors:
Being Outdoors
Masking when necessary
Cohorting
Distancing
Quarantining
Testing
Sanitizing
Educating
This is a community commitment we are all making to the greater public health this summer.
The CDC has created a video to brief campers on health suggestions while at camp. You can view this with your camper here.
Camp Health Protocols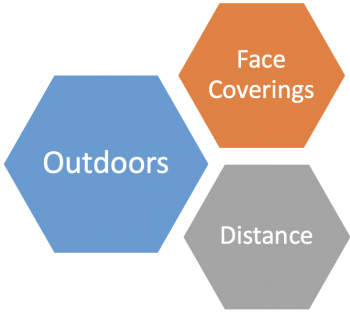 At this time, no camp provider, including Kennolyn, can guarantee that your child will not contract or be exposed to COVID-19.  If you chose to send your child to camp, you are doing so with the understanding that there is the potential risk of exposure.
We believe that summer camp can be run effectively during the COVID-19 outbreak.  It will take a combined effort from camp administrators, medical staff, support staff, counselors, parents, and campers to ensure the health and safety of all participants is protected.
Participation Guidelines
Campers and staff who are immunosuppressed (as defined by their medical professional) or live in a home with an immunosuppressed person should not consider participation in camp during these extraordinary circumstances.  Participation in a camp program during this pandemic has too high a risk factor. If you have any concerns about this policy, please contact us to set up a time to talk with our medical team.
We also ask that all parents consider the following question when deciding to enroll their child:
"Can my child reliably follow verbal directions from staff that enforce social distancing at camp?" In other words, can your child follow simple verbal directions, given in English?  Accommodations can be provided as needed, and requests for such accommodation need to be made known to camp staff at least 7 days before the camp session.
Before Camp
Pre-arrival isolation – for unvaccinated individuals, the California Department of Public Health recommends 10 day at home quarantine prior to camp arrival. While this would be ideal, we recognize that this is very difficult for families. We are leaving this up to each family to decide based on their own circumstances. What we ask is that you take all possible precautions to avoid unnecessary contact with possibly infected people for up to 10 days prior to your camp session.
Pre arrival isolation – for vaccinated individuals, the CDC recommends that campers follow the guidance for travelers protocols prior to camp. For vaccinated individuals this essentially means stay away from large crowds and wear a mask when travelling on planes, buses, trains and other forms of public transport.
Pre-Arrival/Intake Screening
Before arrival families will be asked a number of questions to screen for COVID-19.
Covid Testing
Vaccinated Campers-All campers who meet the vaccination definition above must provide results of a negative PCR SARS-CoV-2 test taken on the Thursday prior to the start of the session. We encourage families use this online at home service. In this way we can guarantee results in time. If you choose to go to a different testing provider, you are solely responsible for making sure the test results are available by noon the day before the session and uploaded to your account. This is the only test required for fully vaccinated campers. You will pay for this test separately. The PCR SARS-CoV-2 test is the only test that will be accepted. No person can be admitted to camp without this negative test result regardless of vaccination status. 
Unvaccinated Campers-All campers must provide results of a negative PCR SARS-CoV-2 test taken on the Thursday prior (within 72 hours) to the start of the session. We encourage families to use the online at home service that we will recommend. In this way we can guarantee results in time. If you chose to go to a different testing provider, you are solely responsible for making sure the test results are available in time. You will pay for this test separately. The PCR SARS-CoV-2 test is the only test that will be accepted. No person can be admitted to camp without this negative test result.
Unvaccinated campers will again be tested upon arrival on Opening Day using a Rapid Antigen test.  Families will be assigned a specific time to arrive in order to minimize waiting.  This test will be covered by the Kennolyn testing fee.
TWO WEEK SESSION ONLY (Sessions 3, 4, and 5 including CILTS, CITS, and JCs.) Campers will be tested again on Thursday, 72 hours after arrival. It is this cumulative testing protocol, done out of an abundance of caution, that will allow us to relax certain protocols and allow campers a wider range of activities with a wider range of friends. This test for unvaccinated campers will be covered by the Kennolyn testing fee.
We know that things are improving, and these protocols may seem strict. Out of an abundance of caution, we must continue down the very controlled path we have been planning. One way or another, we will be responsible for hundreds of unvaccinated children this summer who will be living together, and testing is a big part of how we can make this work.
Cost of testing: we are still negotiating with our vendor! We had announced earlier that the fee would be $225. Now we think the one week testing fee will be around $100 and the two-week testing fee should be less than $200. This is IN ADDITION to the pre arrival PCR test that you will pay for separately. Your camp testing fees will be charged to your credit card on file.
Regular Screening and Assessment
Participants and staff will have wellness checks each day.  This will be done by our camp directors or nurse. We have a nurse on-site and doctors on call.  Health Center staff is available for emergencies that happen during camp.
Response to Probable Cases
Should a camper or staff member begin to exhibit COVID-19 symptoms, they will be immediately isolated and quarantined.
Parents will be contacted and we will begin the process of testing the camper and contact tracing. Please see our detailed parent packet for more information.
Protective Face Coverings
All campers are asked to bring a mask or protective face covering. Please send multiple options that your camper has practiced wearing at home. Masks should follow CDC recommendations as outlined here.  The camp will have extra surgical masks for campers who lose masks or do not bring appropriate options. These are worn at specific moments in the day when social distancing is not possible.  For example, if a camper needs to visit our health staff, or has a behavioral issue that requires administrator intervention. Masks will be worn as often as possible during the first 24 hours of camp until test results arrive. After that, it is important to note that within the stable groups, face masks are not required and therefore the risk of infection is higher within the group.
Masks will NOT be required when:
Campers and/or staff are located inside their own cabins.
Campers and/or staff are outdoors and more than 10 feet apart from members of other pods.
Campers and/or staff are seated at their table in the Lodge and eating.
Campers and/or staff are taking showers
Campers and/or staff are taking part in waterfront activities (swimming, waterskiing, canoeing, etc.)
Our Staff
To our camp families:  This is the information being shared with our 2021 staff as they make preparations to join us.  We are sharing this information with you to reinforce all the precautions we are taking.  Click here to read bios from our staff so you can get to know the wonderful people that will care for your child.  To meet our year-round leadership staff, click here.
Pre-Camp Policies
All staff must self-quarantine prior to Camp. The amount of time will depend on CDC recommendations at the time. Currently, the CDC recommends 7 days with a negative test (test should be conducted after 5 days of quarantining).  Contact should be restricted to members of the household only. No physical contact with anyone outside of the household will be permitted unless absolutely necessary. We ask other household members to take appropriate social distancing measures (wearing a mask, staying 6 feet away from other people, and washing hands with soap and water frequently) during the quarantine period.
We will ask staff to get tested for COVID-19 before they arrive onsite. Kennolyn is partnering with a testing company and will provide instructions and cover the cost of the test. We ask that staff continue to quarantine until they get their results and arrive at Camp. Staff will stay distant upon arrival and we will test again a few days later.
Staff Pods
Staff will be divided into "flocks" upon arrival at Camp.
Being flocked means that staff will be in small cohort groups, likely by job/department, and will eat, be housed, and train with that group.
When interacting with staff from other flocks, staff will have to meet two of the three following criteria: be masked, be six feet apart, and/or be outdoors.
When campers arrive for both sessions, counselors will separate again with their campers for the first few days of a session before breaking into "flocks" of up to 50 people.
After the first few days, every cabin where all individuals test negative may be able to join larger camp flocks, if the county allows.
PPE and Masks
In order to contain possible exposure and spread of COVID-19, we are requiring face masks that cover both the nose and mouth when campers and staff are in public areas.
Masks will not be required when staff are inside their own cabins, nor when they are outdoors and more than 6 feet apart from any others.
Staff should bring washable masks with them to camp. Disposable makes will be available if needed.
Staff will be required to wear masks when interacting with people from another camp flock.
Depending on your role, you may need to wear a mask and/or other types of PPE while working.
Closed Camp
It is highly likely that we will run a "closed" camp, where staff are required to stay in our camp bubble even on time off and days off, and won't be able to have visitors. We will communicate as plans become clear so you can plan accordingly. We are committed to making this a fun and meaningful summer. Some plans for staff include new staff spaces, activities, special foods, programming options, and more.
We have planned 4 days throughout the summer, timed in between sessions, so staff can leave camp and pick up supplies, and have some refreshing time off. During these days local health department rules must be followed and the "2 of 3" rule still applies. Staff will come back to camp with time for a test before the next group of campers arrives.
Covid Vaccinations
Camp staff are considered essential workers and are eligible to receive the vaccine. For more info click here.  We strongly encourage all staff working at camp to get vaccinated before their employment start date.
FAQ
Can we still get insurance?
Who knew that travel insurance amidst a global pandemic would be a complex product with a lot of vague and unclear policies??  The policy that comes from our partners and was available during registration has 2 types: Standard and Cancel for Any Reason (CFAR.)  CFAR policies must be purchased within 20 days of your registration for camp and only pay you a percentage of your forfeited tuition if you cancel for a reason other than illness, travel delays, etc.  Standard policies can be purchased up until a few days before the session.  You should analyze these policies carefully before deciding to purchase.  You can click here for details of the policies offered by our partner but you can buy any travel insurance that you have researched and that you feel offers you the financial protection you are looking for.
Will staff be vaccinated?
We hope so! Our full-time, year-round staff are already getting vaccinated but our summer staff do not all live locally so we do not know what their timeline for vaccinations will be. We have supplied them all with evidence that they will be working in a childcare setting and as such are eligible for the vaccine. We will continue to follow up with our staff and urge them to protect themselves and our campers if the vaccine becomes available to them. We are not making vaccinations a prerequisite for employment because of the uneven distribution model. But, we are telling staff that they may not decline the vaccine if it is available to them.
What won't Kennolyn have for 2021?
No offsite trips or activities.  That means no beach or boardwalk trips, no surfing or adventure specialties.  Also, indoor activities will not be offered this summer which includes videography, robotics, culinary arts, and sewing.
Do we need a friend to come?
NO. Friends are provided and included in the cost!  Some campers do come with specific friends but the majority just come to camp and enjoy meeting new people.  The counselors are skilled at making kids feel comfortable and encouraging them to use their friend-making skills.
Will my child get to talk/see their friend/sibling if they're in a different group?
Yes, from a distance.  In our small overnight programs last summer, we have many siblings in different groups.  They could still interact but less so than normal.
What happens if my child has dietary restrictions?
Just tell us as much about your camper's needs as far in advance as possible.
Will they have to wear masks most of the day?
No. Please see the section on Covid Protocols above.