Huntington Lake Overnight Camp
Huntington Lake FAQs
Here you will find lots of useful resources and links designed to answer some of your most common questions about camp.
Choosing the right summer camp is a major decision, and we honor the trust you place in us. We are eager to assist in any way we can, so please don't hesitate to let us know if there is anything we can to do to help.
Don't see your question? Speak with a Kennolyn Director!
Does my child need a friend to come with him/her to Kennolyn?
No. The majority of Kennolyn campers do not come to camp with a particular friend. We think of camp as one of the best and easiest places to make new friends. Our counselors are trained to include all campers in activities and create cohesive cabin groups regardless of whether campers know each other outside of Kennolyn or not.
What makes this program unique?
Kennolyn Camps has been in operation since 1946. We know how to run summer camps and we have done it extremely well for a long time. The structure, facilities, and program of Kennolyn Camps Huntington Lake have been designed to capitalize off of that experience. This camp is unique in that the small camp size coupled with experienced leadership, allows us to fully support and encourage each child. Your child will walk through camp and be known and know everyone else. Not just their cabin group. But the cook, the head lifeguard, and the director. And that person will have the TIME and the BANDWIDTH to engage with your child. We're not pumping kids through the program. This is a strong, relational experience that your child will co-design.
In the education world, study after study have shown that as class sizes are reduced, student performance improves. And those gains are stronger the longer the child participates. It's the same in the camping world. All the typical benefits of a summer camp cabin group are here – acceptance, connection, and excitement. Our small camp size supercharges that feeling of belonging and empowerment as other counselors and camp leadership focus on the child as an individual. Like small classes, a small camp gets down to the needs of each child and improves their emotional and interpersonal intelligence. And the small size allows the child to have the confidence to speak up without the competition of a larger group knowing they'll get instant feedback. Along the way, campers discover they have the TIME and BANDWIDTH to express (and sometimes form) their own unique individual identity.
Our program has been designed to reinforce the value of a small camp size with opportunities for your child to just be themselves such as:
Open Mic Night – on their own (or maybe with a buddy) do their thing on stage – sing, dance, play, tell jokes, perform some magic, read a poem – all to a resounding applause and call for an encore performance.
Open Lunch – our counselors spread out and campers sit where they want to allow for relationships outside the cabin group.
Flexible scheduling – campers create their own schedule each day to allow them to pursue their interests on their own or with new friends.
Long activity periods – remember the days of having the time to create or let the sun dry your skin after a dip in the lake? Weaving a friendship bracelet from start to finish in one sitting? Those days of yesteryear are here every day. Activity periods are 90 minutes long to allow campers to really get into what they're doing – cooking, rappelling the waterfall, paddling to Thursday Island, perfecting jumping the wake, reading a good book in a sunny spot, you name it.
Where is camp located?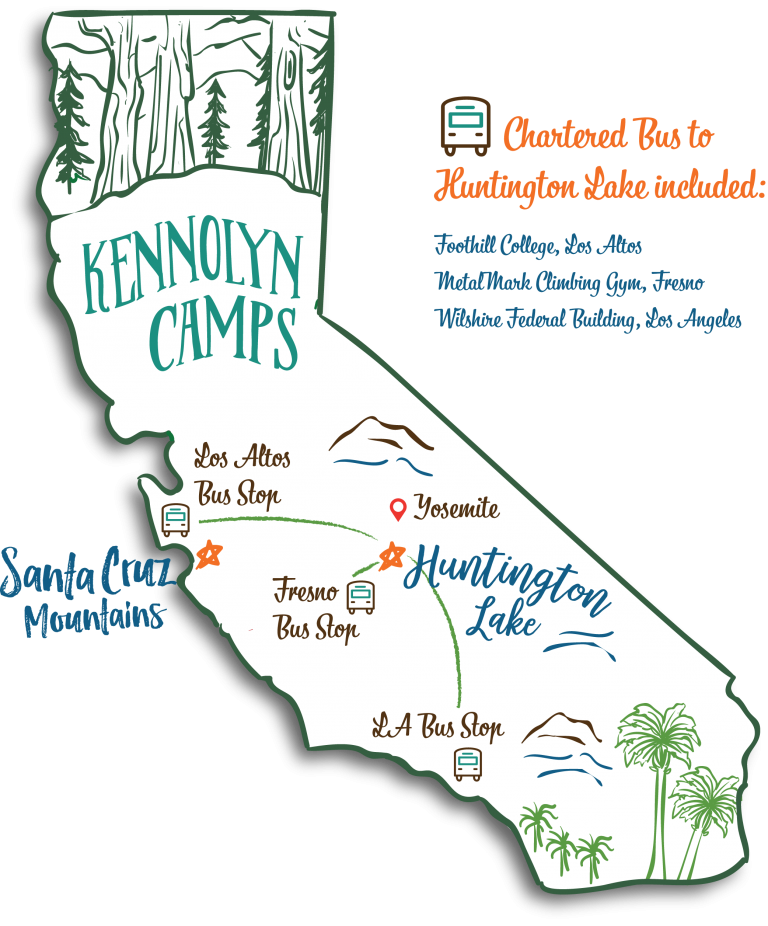 Huntington Lake is 45 miles south of Yosemite Valley as the crow flies. We are in the heart of the Sierra National Forest 60 miles north east from Fresno. Our location is truly one of the best kept secrets in California. The road past the lake literally ends 24 miles later over a high boulder strewn pass. Our location is an ideal jumping off point as the wilderness playground is our back yard!
Huntington Lake is at 7000 feet and covered in snow in the winter. It was constructed in 1912 as a part of the enormous Big Creek Hydroelectric Project and is 7 miles long and one-half mile wide with four dams. This clear alpine lake is known for the High Sierra Regatta – an annual sailing race – which takes advantage of the consistent light afternoon breeze. The town of Lakeshore is charming and tiny. It is comprised of a post office, general store, and restaurant all within a few hundred feet. Other than a small gas station and volunteer fire department station the rest of the area is privately owned cabins and public camp grounds with a couple places to rent boats. Think Lake Tahoe in the 40s and 50 – this amazing place is a relatively unknown gem – and ours for exploring
Is there a fee for the bus or airport shuttle?
No. Because many of our campers are from LA and the SF Bay Area, the bus is included in tuition. We recommend taking the bus and most campers do. Good-byes are easier at the bus stop and campers have the opportunity to get the full camp experience with songs, games, and new friends right away. Families may also drop off or pick up as they wish or take advantage of our Fresno Airport complimentary shuttle service as well.
What are the bus stops and times?
We hire commercial charter buses and send our staff to make the ride fun! Bus stops are:
SF Bay Area stop at Foothill College 12345 El Monte Rd, Los Altos. Families arrive at 9:45 on Monday Opening Day and campers return after their session at 3:30 on Friday Closing Day.
LA Area stop at the Wilshire Federal Building, 11000 Wilshire Blvd, Los Angeles. Families arrive at 9:45 on Monday Opening Day and campers return after their session at 3:30 on Friday Closing Day.
Central CA stop at Metal Mark Climbing Gym, 4042 N Cedar Ave, Fresno. Families arrive at 1:45 on Monday Opening Day and campers return after their session at 12:00 on Friday Closing Day.
If I want to drive to camp, what are the pick up and drop off times?
Opening Day is 2:30pm and Closing Day is 9:30am. Let us know if you're making the drive and we can recommend places to stay nearby.
Do you allow screens or smart phones?
Yes and no. In between songs and games, counselors give campers time to use their devices while on the bus ride to camp. However, we collect all items as we disembark at camp so campers can unplug. As with our established programs, we truly believe that periods of time away from screens and technology is developmentally appropriate for children and teens. Now more than ever, camp is the antidote to our screen dominated world. Campers appreciate real "FaceTime" and the simplicity of enjoying the present moment with friends.
What is the weather like?
The weather is ideal for an active day and it's the reason why San Joaquin farming families since 1920 have flocked to the lake to escape the valley heat. During the summer the temperature can range from the low 70s to the high 80s. And since we're at 7000 feet, at night it can cool down to the low-50s, but is typically in the mid-60s. We recommend sleeping bags rated 30 degrees or cooler.
How many campers are there?
We have enough beds for up to 80 campers (40 boys and 40 girls). With a small camp, we don't take the one size fits all approach; we focus on each and every child.
What are the cabins like?
Our cabins are simple but functional with bunk beds and electricity for those bed-time stories. Bathrooms and shower houses are detached and just a few steps away. Cabins sleep up to 18 people: 2 counselors with their group of 6-8 children each.
How are cabins assigned?
Campers are placed according to gender and grade. Groups typically have a combination of two grades (eg 5th and 6th graders). We do our best to honor requests to be with a friend and will discuss this with you if requests cannot be honored. We understand that part of camp is going back summer after summer to be with camp friends or to go to camp for the first time with a friend from home. Campers also come not knowing anyone at all. We take all the factors into consideration when forming groups – new, returning, home town, requests – and create a group that will be tight-knit and inclusive. While talking over camp with your child, keep in mind that it can be very beneficial for campers to be separated from friends from home. We have heard numerous times that campers have enjoyed the camp experience MORE by coming on their own. Camp is an opportunity for a fresh start socially, and we appreciate your support in making each cabin group balanced and unique.
What if my camper has dietary needs?
We accommodate gluten-free and vegan diets but are not a nut-free camp. We can remove nuts from the menu but some of the mixes used may contain trace amounts through processing. The kitchen has been in service for many years and may have trace amounts of allergens as well. If your child has serious food allergies, then this camp is not a good fit. If in doubt, please contact us and we can talk through your child's needs.
How do activities work?
Campers move through a progression of activities with their group to get grounded and build relationships, then try different activities on their own, and then dive deeper into the ones they really like. The first two days of Camp are Group Days – campers stay in their groups to get oriented to all the main activities at camp. The remaining days are Choice Days where campers choose their activities daily so they can focus on ones they especially enjoy. We also offer Specialty horseback riding activities with professional instructors. Fees and signups are taken in advance as space is limited. Signups are through the registration process or can be added anytime by contacting our office.
What's a typical day like?
Our typical day starts at 7:15am. Four 90 minute activities are broken up by lunch and Siesta. Campers pick activities for the next day at the end of lunch. After dinner there's an evening event for the entire camp. Younger campers start getting ready for bed at 8:30pm with lights at 9pm followed by a later bedtime for the older campers at 9:30pm.
How does camp communicate with families?
We send an email out a week or so before camp with last minute reminders to make sure everyone is prepared. During camp we post lots of pictures through our own app. We also post to Facebook and Instagram. Counselors send a postcard early in the session and a letter at the end of the session to review camper growth and development. Campers also send weekly postcards or letter home to highlight the fun they're having. Parents may send snail mail or one way emails that we print and deliver. Care packages are a nice idea but can create unintended issues so we do not allow them. Better to send campers with a good book and word puzzle. Of course campers can choose from our huge library as well.
How do you handle camper health and meds?
We have two nurses on staff at all times under the guidance of our camp doctor. Nurses provide first aid, dispense required medications, and give a little TLC to those that need rest in the Health Center. The majority of our staff are also CPR and Lifeguard certified. We are also very well connected to the Emergency Services at Huntington Lake (the local Fire Department keeps an engine on the camp property.) However, more routine medical care like ear infections or respiratory illness may require a trip to Clovis (a 90 minute drive.) For this reason, we will always contact parents when we see potential problems on the horizon. It is very important that each camper have someone available who can make the journey to Huntington Lake if illness or injury requires a medical visit or the camper needs to go home. If parents are out of town, the emergency contact must be someone capable of making decisions and available to pick up the camper within a reasonable amount of time.
Do you have a sickness policy?
Yes. Communal living is an amazing thing and protecting the health of all campers is vital. When campers become sick, they typically just need time to rest and rehydrate in the Health Center. We have several rooms and tents that are left open for this purpose. If a camper should become sick, we will communicate with families to discuss symptoms and treatment plan. If the illness is severe or persists beyond 24 hours the family will be asked to pick the camper up or some sort of reasonable accommodation made with the families help. We screen campers prior to admitting them on the bus or upon arrival at camp as well to set a healthy baseline for our camp community. Huntington Lake is at 7000 feet above sea level. Because of this, some campers may experience some discomfort (headaches, tiredness, trouble sleeping) for a day or two as we all acclimatize. Please keep your campers well rested, well fed, and well hydrated a few days prior to camp. This will help with the adjustment. Also, please make sure you have indicated in your health history which over the counter medications we can offer your camper.
What's your policy on immunizations?
We require all campers and staff to be immunized per the 2019 CDC Recommended Immunization Schedule (http://eziz.org/assets/docs/IMM-231.pdf) as prevention for all communicable diseases such as Influenza, Measles, Whooping Cough, Chicken Pox, etc.
Kennolyn Camps, Huntington Lake takes place on a site that is operated under a Special Use Permit from the USDA Forest Service on the Sierra National Forest, California. The camp operates on a non-discriminatory, equal opportunity basis.