Take a Tour
There is no better way to decide if Kennolyn is right for your camper than to walk around, meet us in person, and get a feel for our program. Our Santa Cruz Mountains camp is accessible year round.  Please contact us and we'd be happy to schedule an individual tour.
Saturday, June 22nd, 2:00pm
Tours of our Huntington Lake overnight camp.
Saturday, July 27th, 2:00pm
Tours of our Huntington Lake overnight camp.
Attend one of our Community Events
May 20th, 7pm at New Brighton Middle School, Capitola.  Join us for a free parent education event. Audrey Monke is a well-known writer, educator, camp owner, and host of a popular podcast. Her new book, Happy Campers: 9 Summer Camp Secrets for Raising Kids Who Become Thriving Adults, will be available for sale at the event. Join Kennolyn Camps, Gateway School, and Bookshop Santa Cruz as we welcome Audrey for a presentation titled Raising Thriving Kids. You will learn simple strategies to build connections within your family and give your children strong foundations for adulthood.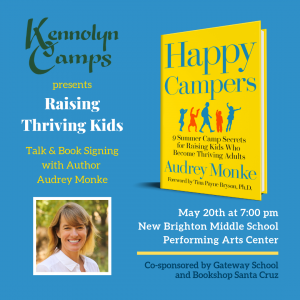 Visiting Santa Cruz
When you visit Kennolyn Camps in the Santa Cruz Mountains, you can plan to spend the day, or even the weekend, in beautiful Santa Cruz. The area offers spectacular beaches, mountains, boating, hiking, camping, sports and recreation, winery tours and a myriad of family-friendly adventures, including viewing elephant seals at Ano Nuevo State, and visiting the Boardwalk. 45 minutes south you can explore the world-famous Monterey Bay Aquarium and tour Carmel's scenic 17 Mile Drive.
Visit www.santacruz.org for links to lodging, dining, and events all over Santa Cruz and the Monterey Bay area.
Visiting Huntington Lake
Our camp at Huntington Lake is only open seasonally. Do not attempt to drive there without contacting us first. We may not be there AND during Winter, the road may be impassable. When you do visit Kennolyn Camps on Huntington Lake, you can take some time to access the wide variety of adventures available in the Sierra National Forest. Our camp is situated in the town of Lakeshore with excellent camping options, some vacation rentals, and a couple of lakeside resorts. More lodging options are available in nearby Shaver Lake.
Visit the US Forest Service for links to lodging, dining, and events on and around Huntington Lake.