Santa Cruz Day Camp
Transportation
A note: Please see our 2021 banner above. We don't expect to offer full transportation like in previous years and the fee structure will change. We are waiting for state and county guidance.
Getting To and From Camp
Bus transportation is available from Capitola, Soquel, Aptos, Santa Cruz, Scotts Valley, Los Gatos, Willow Glen and Campbell. Want to add a new stop?  Please contact us with your suggestions.
Each of our yellow school buses bears a Kennolyn sign and is staffed with a cheerful counselor wearing a Day Camp t-shirt. Bus counselors check campers in each morning, ride with them on the bus, and finally help them find their group counselors upon arrival at camp. At the end of the day, the same counselors accompany campers on their return trips to the same bus stops, where they check campers out to parents or guardians. Please note: Our Willow Glen transport service utilizes 15 passenger vans instead of the school buses.
Day Camp truly starts on the buses! Our campers sing songs, tell jokes, and make friends with their bus mates.  They also work with their bus counselors to develop original cheers to share with the entire camp during Closing Circle.
Sign up for which stop you would like or whether you are planning to drive as you register. You may also log in to your online account, call 831-476-6714 ext 449, or email camps@kennolyn.com.
Driving to Camp?
Drop off campers at camp 9:15 AM each day. Pick up at 4:00 PM Monday through Thursday and at 3:00 PM on Fridays.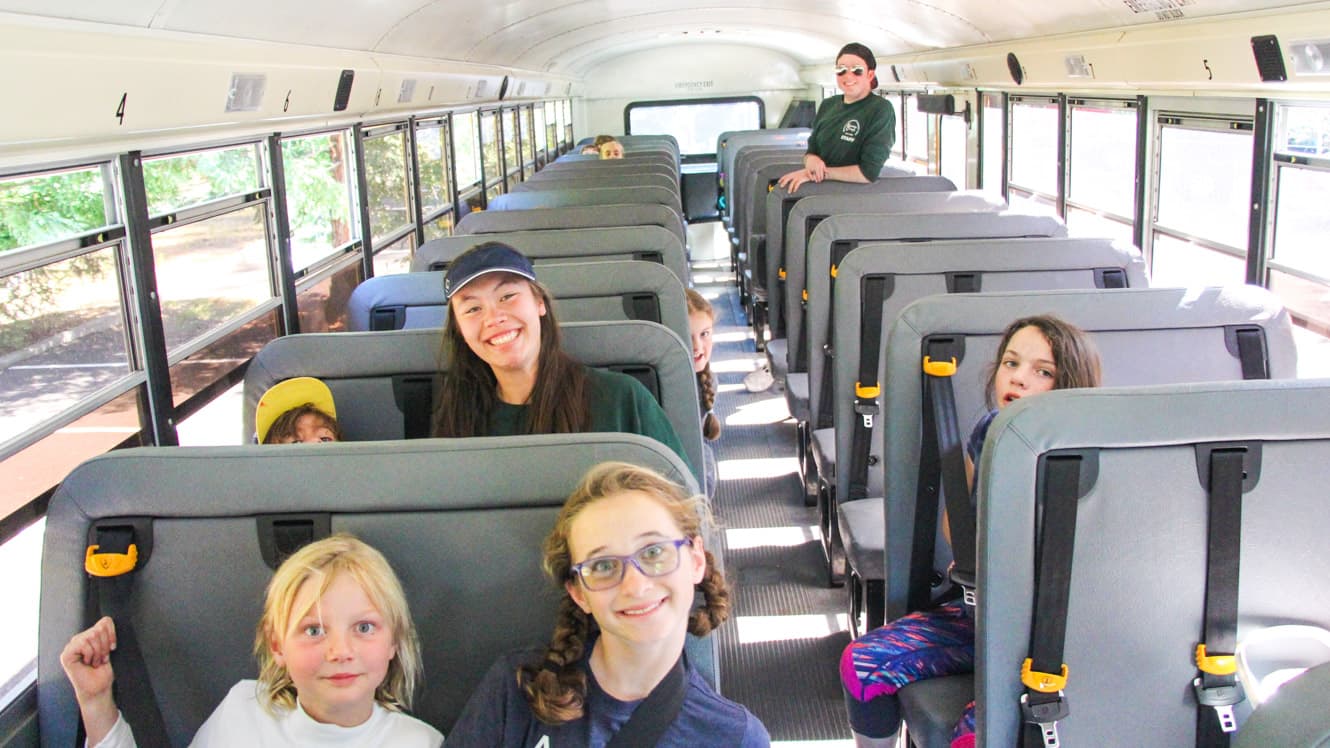 Tentative 2020 Bus Schedules
Green Bus: Santa Cruz
Free from Soquel Congregational Church, $25/wk from other stops
Bus Stop
AM
Drop-Off
(Mon-Fri)
PM
Pick-Up
(Mon-Th)
PM
Pick-Up
(Fri Only)
Location
Westlake School
8:15am
5:05pm
4:00pm
1000 High Street
Branciforte Middle School
8:35am
4:45pm
3:40pm
315 Poplar Ave at Melrose
(diagonal parking on Poplar)
Soquel Congregational Church
9:00am
4:20pm
3:20pm
4951 Soquel Drive
(N. Main Street in Soquel)
Kennolyn's Day Camp
9:15am
4:00pm
3:00pm
Hilltop Hacienda
Blue Bus: Campbell/Los Gatos – $75/wk
Bus Stop

AM
Drop-Off
(Mon-Fri)
PM
Pick-Up
(Mon-Th)
PM
Pick-Up
(Fri Only)
Location
Campbell – Community Center
8:00am
5:15pm
4:10pm
Jeffers Way and W Campbell Ave
(by the skate park)
Los Gatos - Daves Ave Elementary School
8:25am
4:50pm
3:50pm
17770 Daves Ave, Los Gatos, CA 95030 – West of Daves Ave and Winchester Blvd.
Kennolyn's Day Camp
9:15am
4:00pm
3:00pm
Hilltop Hacienda
Orange Bus: Scotts Valley/Aptos – $25/wk
Bus Stop
AM
Drop-Off
(Mon-Fri)
PM
Pick-Up
(Mon-Th)
PM
Pick-Up
(Fri Only)
Location
Scotts Valley Library
8:25am
4:50pm
4:00pm
King's Village Road – South Side of Parking Lot
Aptos – St. John Episcopal Church
8:50am
4:25pm
3:30pm
125 Canterbury Drive
(McGregor and Canterbury)
Kennolyn's Day Camp
9:15am
4:00pm
3:00pm
Hilltop Hacienda
Willow Glen Van – Sessions 5 (van is full for this session,) 6, & 7 – $75/wk (12 spots only)
Bus Stop
AM
Drop-Off
(Mon-Fri)
PM
Pick-Up
(Mon-Th)
PM
Pick-Up
(Fri Only)
Location
Willow Glen –
Willow Glen Elementary School
8:15am
5:00pm
4:00pm
Parking lot on Lincoln Avenue
Kennolyn's Day Camp
9:15am
4:00pm
3:00pm
Hilltop Hacienda
---