Santa Cruz Day Camp
Transportation
Getting To and From Camp
Bus transportation is available from Capitola, Soquel, Aptos, Santa Cruz, Scotts Valley, Los Gatos, and Campbell.
Each of our yellow school buses bears a Kennolyn sign and is staffed with a cheerful counselor wearing a Day Camp t-shirt. Bus counselors check campers in each morning, ride with them on the bus, and finally help them find their group counselors upon arrival at camp. At the end of the day, the same counselors accompany campers on their return trips to the same bus stops, where they check campers out to parents or guardians.
To select your bus stop and agree to the fees, please log in to your online account.  Under FORMS AND DOCUMENTS, please complete your request using the Additional Options form.
COVID related transportation policies
Buses will be operated at full capacity (up to 54 passengers.)
Mask wearing will be enforced at all times.  This means no eating or drinking on the bus. (Because of this, campers will be encouraged to eat a snack right before boarding the bus for home.)
Windows will be open for ventilation.
Campers will hand sanitize upon entry to and exit from the bus.
Campers may be assigned seats with members of their household bubble or campers from their same camp group.
Driving to Camp?
Drop off campers at camp 9:15 AM each day. Pick up at 4:00 PM Monday through Thursday and at 3:00 PM on Fridays.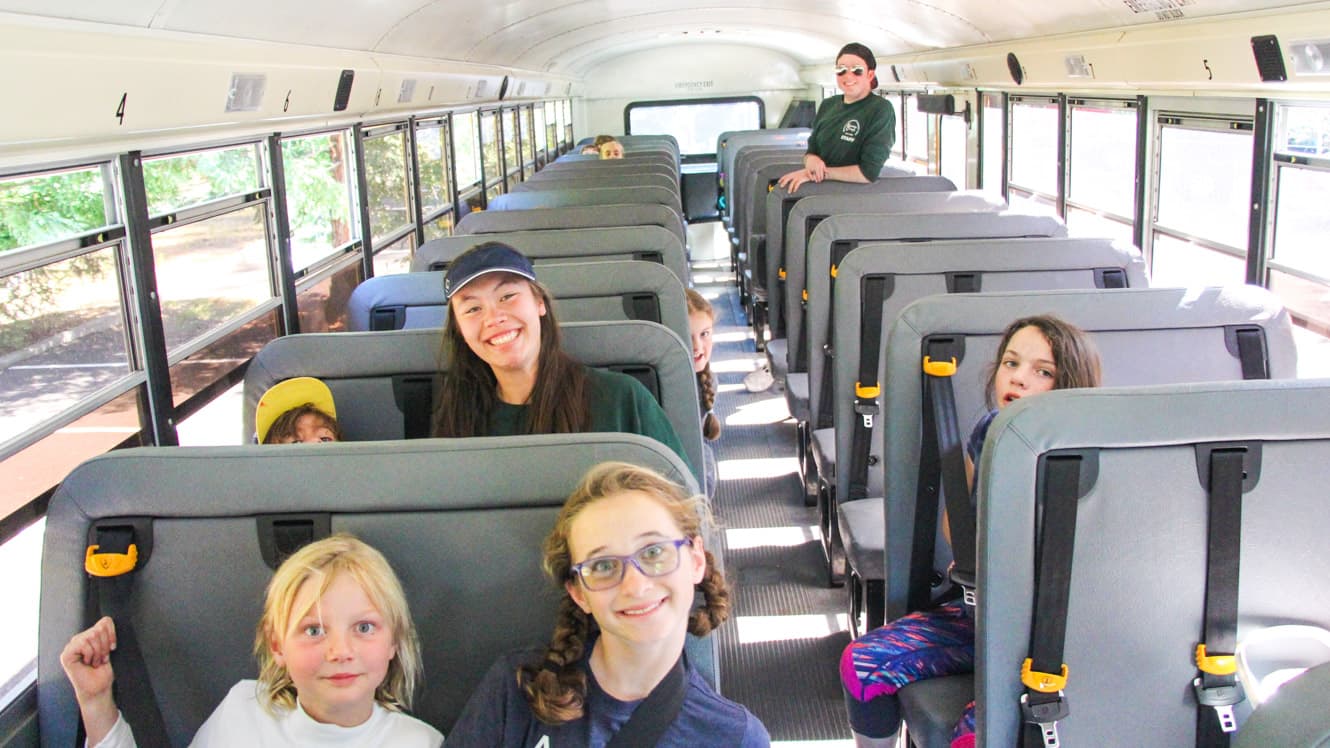 Tentative 2021 Bus Schedules
Green Bus: Santa Cruz
$25 from Soquel Congregational Church, $50/wk from other SC stops
Bus Stop
AM
Drop-Off
(Mon-Fri)
PM
Pick-Up
(Mon-Th)
PM
Pick-Up
(Fri Only)
Location
Westlake School
8:15am
5:05pm
4:00pm
1000 High Street
Branciforte Middle School
8:35am
4:45pm
3:40pm
315 Poplar Ave at Melrose
(diagonal parking on Poplar)
Soquel Congregational Church
9:00am
4:20pm
3:20pm
4951 Soquel Drive
(N. Main Street in Soquel)
Kennolyn's Day Camp
9:15am
4:00pm
3:00pm
Hilltop Hacienda
Blue Bus: Campbell/Los Gatos – $100/wk
Bus Stop

AM
Drop-Off
(Mon-Fri)
PM
Pick-Up
(Mon-Th)
PM
Pick-Up
(Fri Only)
Location
Campbell – Community Center
8:00am
5:15pm
4:10pm
Jeffers Way and W Campbell Ave
(by the skate park)
Los Gatos - Daves Ave Elementary School
8:25am
4:50pm
3:50pm
17770 Daves Ave, – West of Daves Ave and Winchester Blvd.
Kennolyn's Day Camp
9:15am
4:00pm
3:00pm
Hilltop Hacienda
Orange Bus: Scotts Valley/Aptos – $50/wk
Bus Stop
AM
Drop-Off
(Mon-Fri)
PM
Pick-Up
(Mon-Th)
PM
Pick-Up
(Fri Only)
Location
Scotts Valley Library
8:25am
4:50pm
4:00pm
King's Village Road – South Side of Parking Lot
Aptos – St. John Episcopal Church
8:50am
4:25pm
3:30pm
125 Canterbury Drive
(McGregor and Canterbury)
Kennolyn's Day Camp
9:15am
4:00pm
3:00pm
Hilltop Hacienda
---