Santa Cruz Overnight Camp
Food & Dietary Needs
Kennolyn is famous for having great food! Three hearty, delicious and plentiful meals are served daily in the Caldwell Lodge, where cabin families sit together with their counselors. Unless, of course, we are eating outside as part of Outpost or a special program. Our outdoor "Chuckwagon Breakfast" is a highlight. Who doesn't like flying pancakes?!
It's not just campers who return year after year. Our kitchen is staffed by chefs and helpers from around the world, many of whom come back each summer to prepare nutritious and tasty food for our campers and staff.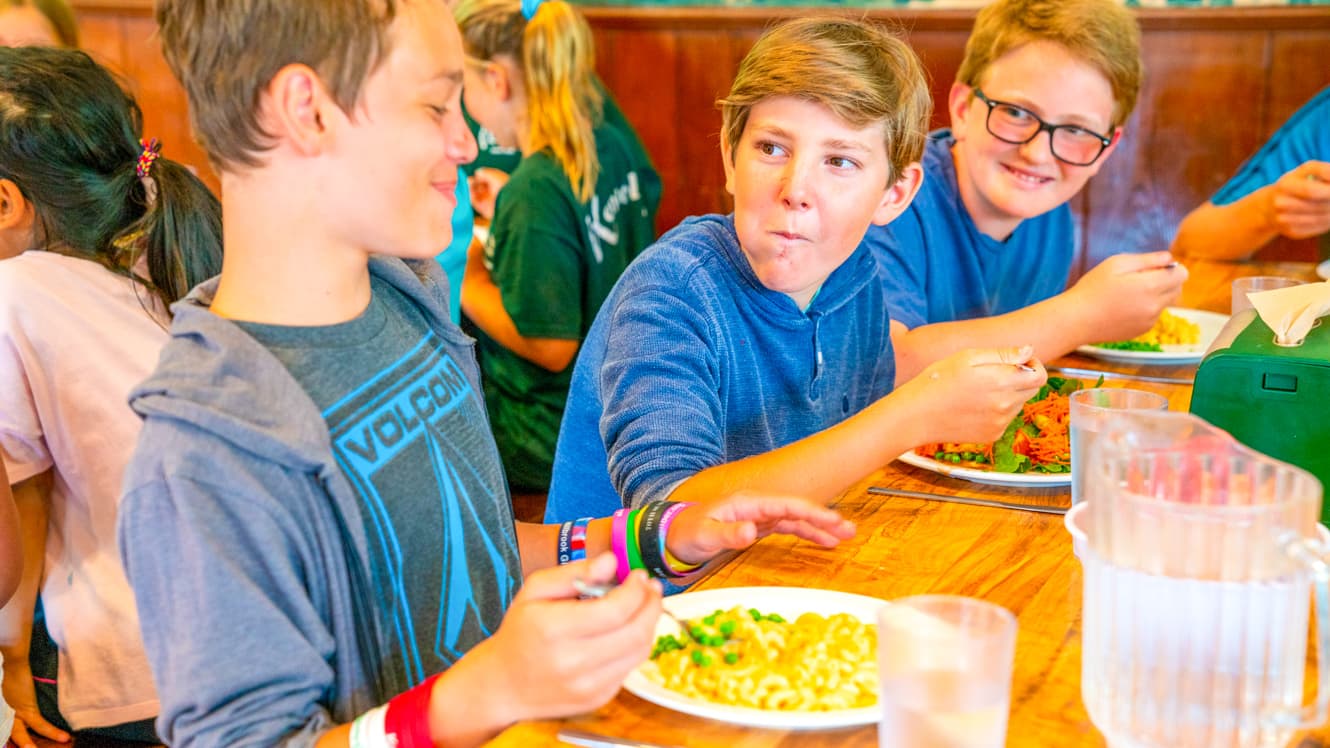 Our menu has something that most kids can enjoy. We have vegetarian choices and overflowing salad bars at lunch and dinner. Please let us know if your camper has special dietary needs or allergies. Because of the wide variety of allergies and dietary restrictions faced by our campers, it is hard to offer a comprehensive guide about our ability to accommodate for allergies. However, we welcome your inquiry if you have any concerns or if you would like to discuss your camper's specific needs. With advance notice, our chef is happy to accommodate vegetarian and gluten free/low gluten diets. Please contact us to discuss your family's food needs. Please note we are not able to accommodate celiac diets.   Vegan diets also present significant challenges and can only be accommodated with supplemental food provided by parents. 
The menu varies each day, but meals on a typical day might include: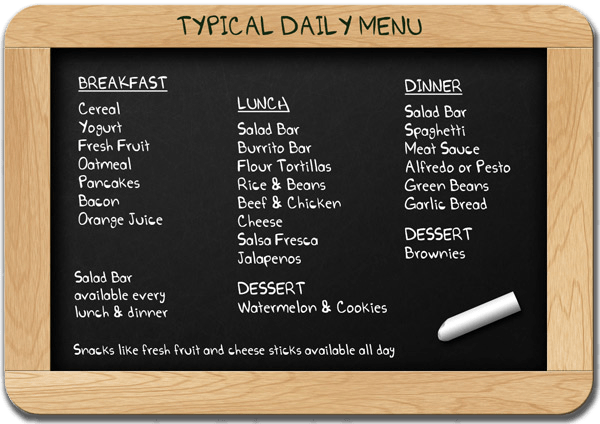 If your camper has a life threatening allergy, please contact us before enrolling. Our goal is to make camp a healthy experience for all, and good communication is important to set your camper up for success. While we do our best to limit allergens, cross contamination is a reality in a kitchen our size. Campers with potential anaphylactic reactions will be responsible for carrying their own Epi-Pen throughout the session. You will also be asked to fill out a FARE Allergy Action Plan as part of enrollment. If your child needs a different kind of support, please reach out to our camp staff prior to enrollment. Staff are trained in epi-pen administration during training.