Summer 2020
A Day in the Life
A typical day at camp is filled with tons of fun in a magical place where kids can be their best selves. The extra morning, afternoon, evening, and cabin time for our overnight campers is just the icing on the cake.
Day Camp Typical Day (Monday-Friday)
8:30-9:45 Drop-off (depending if its Village or Hilltop Camp)
Opening Circle
Morning Activity Periods
Lunch
Afternoon Activity Periods
4:00 Pick-up
Overnight Camp Typical Day
7:15 Wake Up & Chores
8:00 Breakfast & Mourning Routine
9-3:45 Activity Day
4:00 Family Hour
6:00 Dinner
7:30 Evening Event
9:00 Call to Quarters
9:30 Lights Out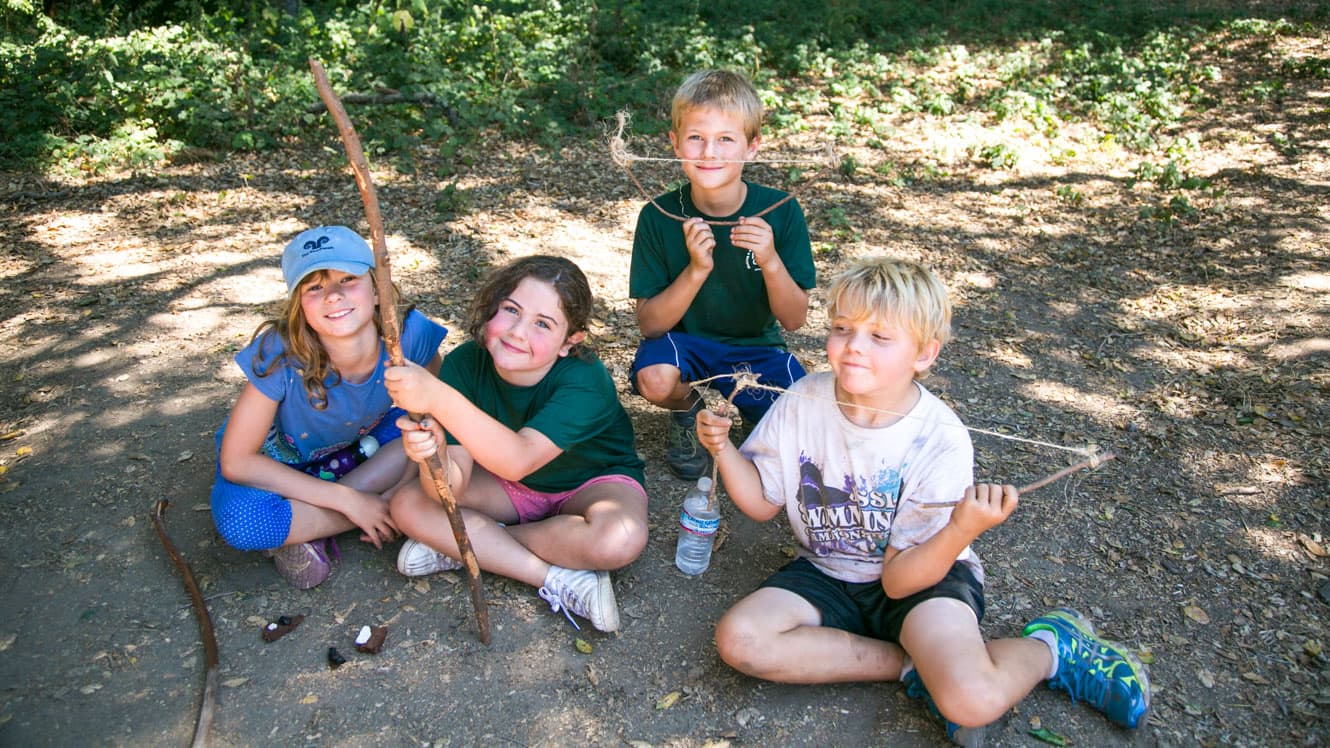 When families arrive, they are met by camp staff and follow check-in protocol. We even make taking camper temperatures fun for the daily health check. Campers are given a colored bracelet to wear for the session to help us all identify groups and ensure social distancing between groups. Campers are then escorted to their color group and gather for the day.
The day officially kicks off with Opening Circle – we get camper energy ramped up with songs, cheers, and flag rising. Social distancing is practiced when groups gather to ensure no mixing or crossover.
Groups rotate through activities each day with snack and lunch breaks to break it up. Counselors constantly gauge camper interest and energy to make adjustments along the way. Each group has their own home base to hang out, relax, eat, and play games. Handwashing stations and restrooms are just steps away.
For day campers, the day ends with the whole camp gathering for Campfire – singing, cheers, and camper shout outs are a great way to end the day with a smile! Then it's time for parent pick-ups.
For overnight campers, after Period 5, groups choose what's next during Family Hour. Perhaps it's time for a dip in the pool, packing for a campout, time for a shower, or a few quiet boardgames. After dinner, evening events like campfire, dutch auction, scavenger hunts keep the fun going until it's time for bed and get some much needed rest.
Not every day is the same at Kennolyn. We keep things lively and fresh with different activity offerings, dress up days, contests, and our final Friday Fun Day to cap off an amazing camp experience.